KEY WEST TIME TV – Starring Howard Livingston
Showcasing the Fabulous Florida Keys and the Island Lifestyle of the "American Caribbean", and hosted by Howard Livingston, the mission of "KEY WEST TIME with Howard Livingston & Friends" is to entertain and to introduce Key West and The Florida Keys to the viewers.
Episodes will include scenes from our beautiful emerald waters, including fishing, snorkeling, diving, treasure hunting and various other water sports. Shows will include fun interviews with tourists on the street, letting them explain why they chose the Keys for their vacation.
The show is fast paced and intertwined with music, food, facts, fun things to do and great places to eat and visit while in the Keys. Howard Livingston & the Mile Marker 24 Band music throughout providing the soundtrack to a lifestyle.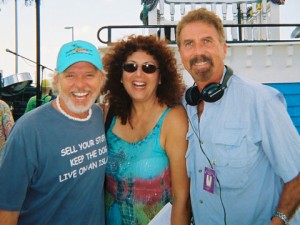 Executive Producer & Host – Howard Livingston, Producer and Art Director – Gail Lattof Hollenback and Executive Producer & Director – Craig Hollenback
About the Host
Howard Livingston is a singer, songwriter and musician and the leader of Howard Livingston & the Mile Marker 24 band. His music provides a soundtrack to the lifestyle of the Florida Keys (aka The Conch Republic).
Howard Livingston is the recipient of the Trop Rock Entertainer Of The Year, Album Of The Year, Song Of The Year and Band Of The Year. He has also been featured on The Today Show, Good Morning America, The Early Show, The Travel Channel, and The Weather Channel. Howard's song The Vandenberg was also featured on PBS's "Changing Seas" program.
About the Production Company
The Conch Republic Media Group is a full service media marketing firm headquartered in the center of Old Town, Key West. Their proven management team, high definition film crew and marketing group are all Key West locals.
The company designs, creates and maintains premiere video based websites that promote the Florida Keys lifestyle (aka The Conch Republic) to the world.
www.KeysTV.com
www.ConchTV.com
www.ConchRepublicRadio.com (www.ConchRadio.com)
www.ConchRepublicDining.com
www.ConchRepublicAccommodations.com
www.ConchRepublicFishing.com
www.ConchRepublicKids.com
The company founders Gail & Craig Hollenback, have over 30 years of experience each that encompasses animation and video production, art direction, graphic design, digital photography, website design, corporate and marketing communications. They have resided in the Florida Keys for 14 years.
This promotional page was taken directly from  http://www.keywesttime.com/
Updating...